Chapter Meeting Next Week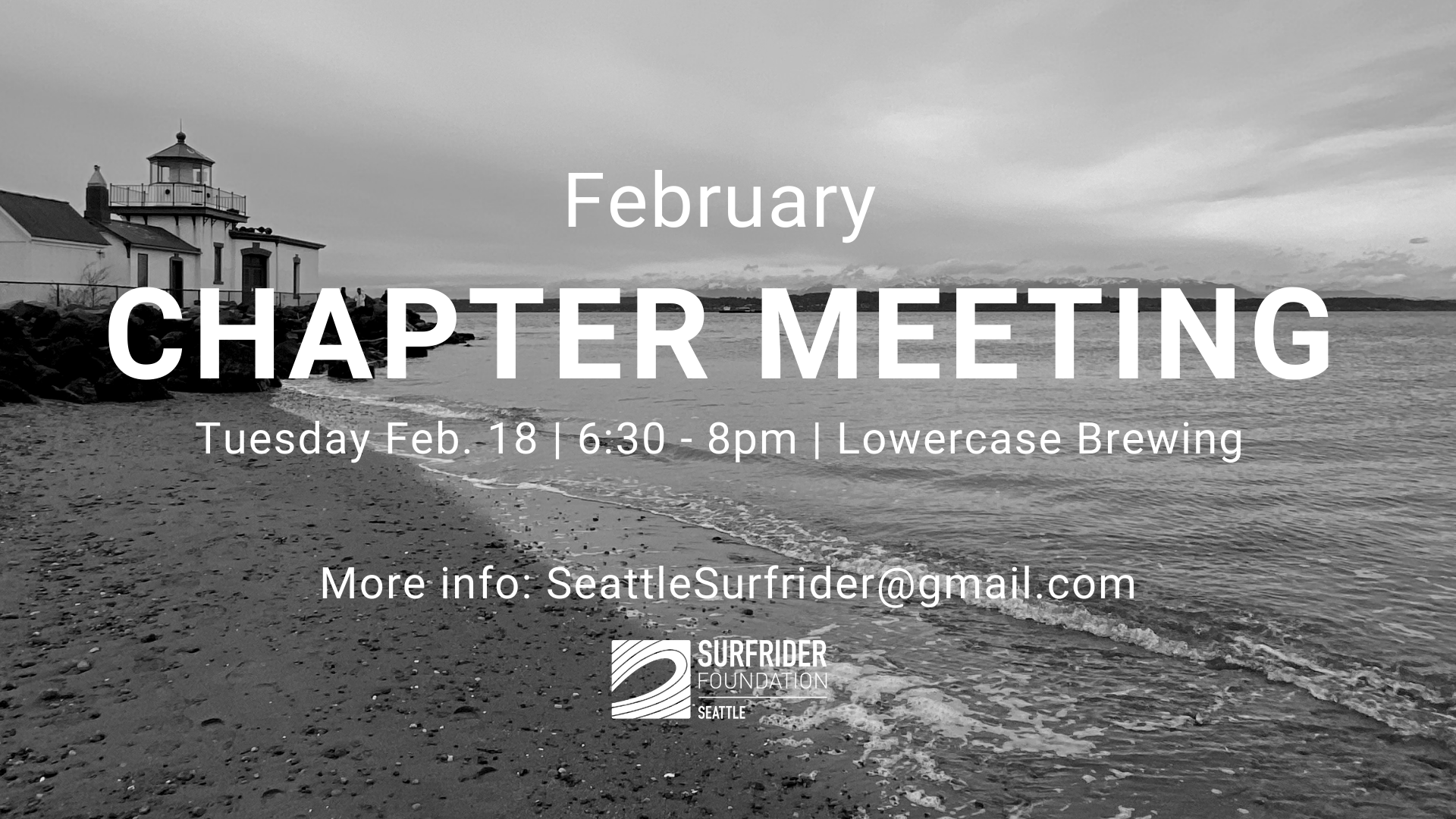 Our monthly chapter meeting will be next Tuesday Feb. 18 at Lowercase Brewing (6235 Airport Way S, Seattle, WA 98108). We will be voting in the executive committee for 2020 (open positions below) , discussing and planning out upcoming events, and bringing together the Seattle Surf community. We hope to see you there!
Get Involved: Open Executive Committee Positions
Surfrider Foundation chapters are led and run by a small group of dedicated volunteers. We have several roles on our Executive Committee opening up and are looking for new leaders like you!
Anyone interested in taking on an EC role to shoot an email to Seattle Chair Call Nichols (chair@seattle.surfrider.org) with their name, position of interest, statement (a sentence or two about why they'd be a good fit or why they want to do it) prior to the meeting.
More info will be provided at the chapter meeting prior to the election portion of the meeting, but here's an overview of our open Executive Committee roles:
VICE CHAIR: Runs meetings in the Chair's absence, chairs a committee of the chapter (a program, campaign, or special project), and more!
VOLUNTEER COORDINATOR: Coordinates with committees and program leaders to identify volunteer needs, leads volunteer recruitment, gets to know volunteers, their interests and matches them to opportunities, and more!
Treasurer: Maintain chapter financial records, establish and or maintain chapter bank account with proper signers, report chapter financial transactions at monthly meetings, expend chapter funds as decided by the chapter Executive Committee
Secretary: Takes notes at chapter meetings, including key decisions and action items, and distributes to attendees and Regional or National Staff in a timely manner (i.e. within one week of the meeting)
Recap: Environmental Lobby Day
Environmental Lobby Day was an incredible day meeting letting our voices be heard and meeting with our state legislators in Olympia. On January 30 the Surfrider Washington chapters joined over 400 activists for Environmental Lobby Day. Surfrider Foundation Washington Chapters and our Seattle Chapter proudly expressed our support of the Washington statewide plastic bag ban (SB 5323). Amoung the legislators we talked with were Rep. Joe Fitzgibbon, Rep. Vandana Slatter, and Sen. Reuven Carlyle.

Recap: Seward Park Beach Cleanup
Seattle Surfrider recently hosted a beach cleanup at Seward Park. A big thank you to our members who braved the cold and wet weather to help us keep our coastal community clean.

We found all sorts of trash in the park but especially present was styrofoam and plastic. All of the plastic ever produced is still in our environment and will be forever. 32% of packaging ends up directly in the environment (our oceans and coasts), 42% is landfilled, 14% is incinerated and ends up in the air we breathe, and only 2% is effectively recycled. A styrofoam ban is currently being voted on in the Washington senate.
Be on the look out for more cleanups and events. Keeping our coastal community clean and accessible is something we will work for no matter the weather.
Upcoming Events
February Chapter Meeting, Thursday, February 18th, 6:30-8:00 PM meeting @ Lowercase Brewing
March Chapter Meeting, Tuesday, March 17th, 6:30-8:00PM Location TBA