Chapter Meeting - Tuesday July 21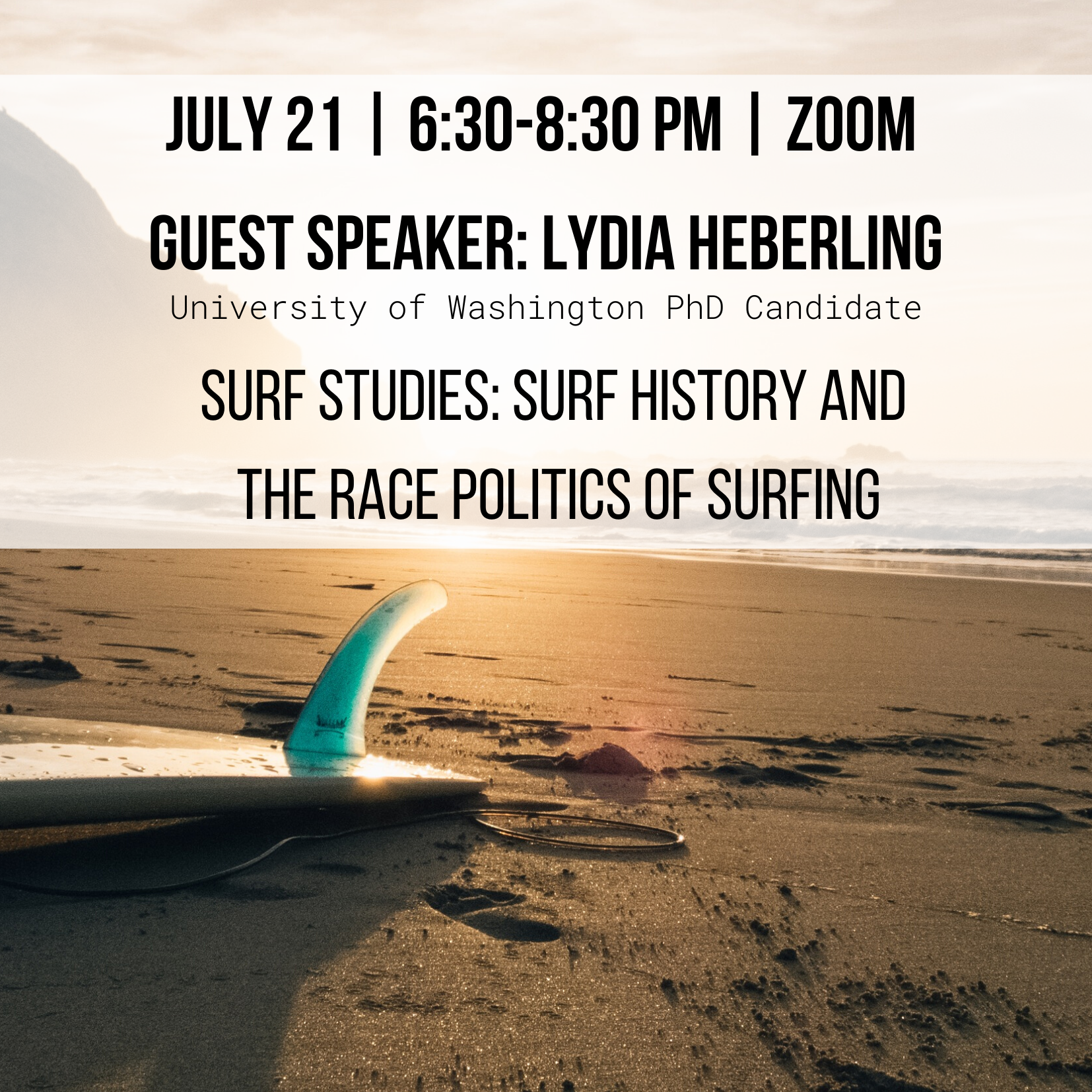 For this month's chapter meeting we have a special guest speaker Lydia Heberling. Lydia works in the emerging field of surf studies, an interdisciplinary space that examines how surfing and surf culture acts as a microcosm for larger, complex questions about identity, race, empire, capitalism, and Indigeneity. She specifically studies how Indigenous peoples use the subcultural aesthetics of surfing to (re)write and (re)right coastal spaces as Indigenous spaces. She will be sharing with us the role race has had in surfing both locally and throughout the broader surfing community. Invite a friend and let's all become better educated about the surf community and surf culture.
RSVP to get the zoom link here.
International Surfing Day Recap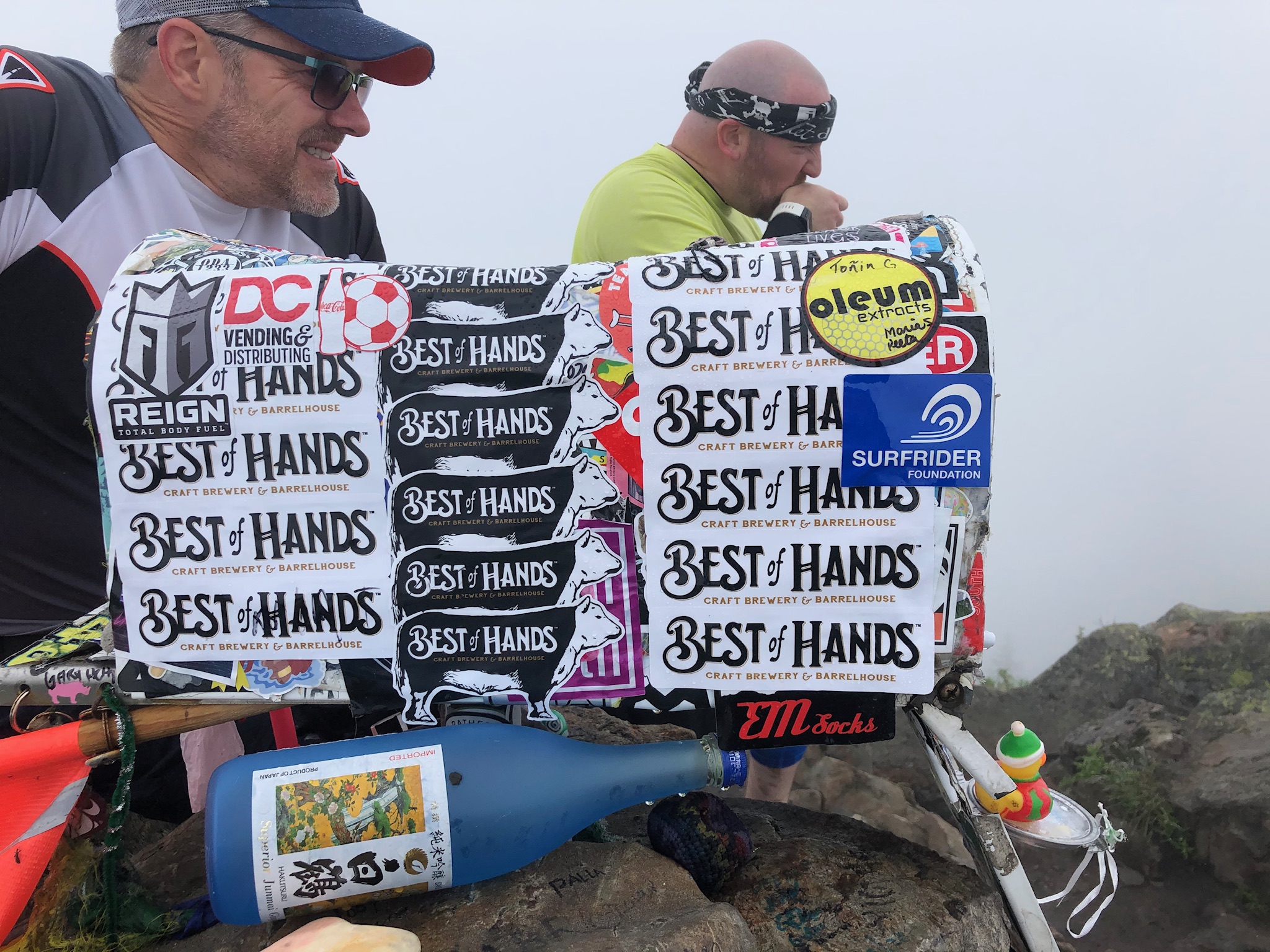 International Surf Day was on Saturday June 20th this year and although events and activities looked a bit different, Surfrider's volunteer activists were still able to come together. Surfrider Seattle held a solo clean up contest, demonstrating that our love for our ocean, beaches, and all the activities we enjoy within will always find a way to rise to the surface. We recognize that you don't have to be at a beach to clean up pollution that ends up in the ocean. Therefore, we encouraged everyone to pick a place they were comfortable (and socially distant), clean up some trash, and take a picture for one of four categories. The contest categories were:
Weirdest Item: Kid Sock with Sporky from Toy Story found by Julia Jaynes
Most Distance Traveled: Rob Brady who hiked up Mail Box peak and slapped on a Surfrider sticker
Overall Haul: Hanna Jaynes with 3 full bags of trash
Best Location: Mukilteo Lighthosue Park cleaned up by Brian Buttigieg
Overall it was a really great way to share the stoke, and we appreciate all your efforts and participation! Stay tuned for more clean up announcements.
- Bri Haugen, Beach Cleanup Coordinator
White Wash Screening & Producer Q&A - June 30 6:30PM
We will be joining together with other chapters in Washington to host a screening and Q&A with producer Airrion Copeland. White Wash, the documentary, is a film exploring the complexity of race in America through the eyes of the ocean. Examining the history of "black consciousness" as it triumphs and evolves into the minds of black surfers, we learn the power of transcending race as a constructive phenomenon. The story is narrated by Ben Harper and Tariq "Blackthought" Trotter. Original score by The Roots.

Join us for this unique documentary and discussion with Producer Airrion Copeland and guests.
Please RSVP here. A viewing link will be provided prior to the event. This event includes a screening of the film followed by the discussion. If you prefer to watch in advance, the film is available online for rent or purchase.
Upcoming Events
July Chapter Meeting - Tuesday, July 21 6:30 - 8:30PM RSVP Here
White Wash Screening and discussion - Thursday, July 30 6:30PM RSVP Here
August Chapter Meeting - Tuesday, August 18