Chasing Coral Screening - Thursday Nov. 19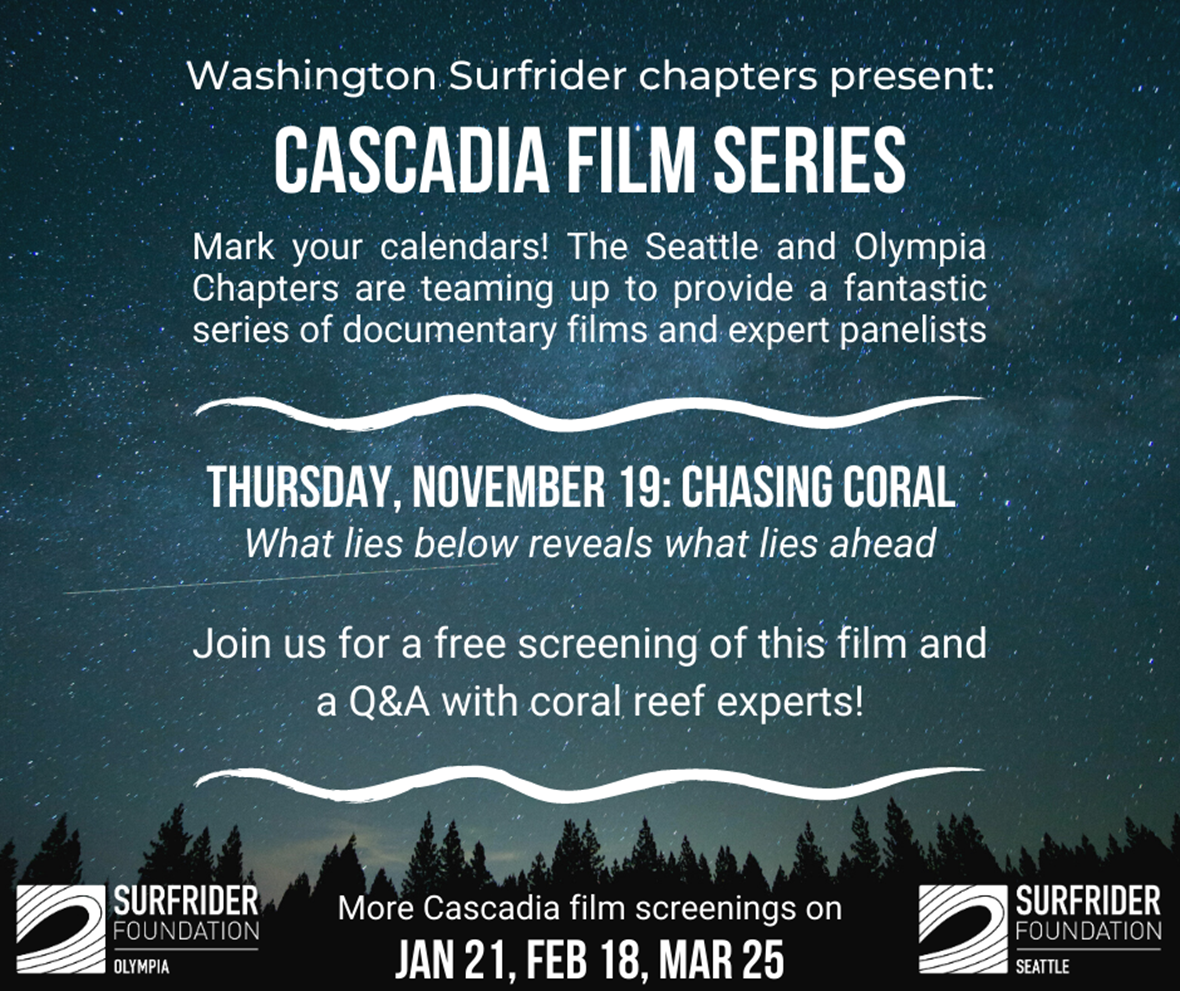 The Seattle and Olympia Chapter are teaming up to provide a fantastic series of documentary films and expert panelists! Our inaugural films is Chasing Coral.
Chasing Coral follows a team of divers, photographers and scientists out to photograph the elusive process of coral bleaching, a phenomenon happening at an unprecedented rate around the world from warming ocean temperatures. The film took 3.5 years to make, features 500 hours of underwater footage, and submissions from over 30 countries.
RSVP here - You will receive info to access the event after you have registered.
Note From Outgoing Chair Call Nichols
Dear Seattle Surfrider,
Just like that, two years gone. The November chapter meeting marks the end of my term as Chair of the Seattle chapter, but I'm not through yet and I fully intend to contest the result of the impending election.
Too soon, sorry... I will in fact be stepping aside from the Chair role, and though I'm not really going anywhere, I did want to take the opportunity to offer some reflections and (mostly) thank yous.
As anyone who's been with the chapter over the last two years knows, we've come a long way. Seattle is different from other Surfrider cities and there's an opportunity here to create something totally unique. After a brief period of self-rediscovery I'm proud to say that we are back to realizing this potential with an outstanding leadership group of committed activists. They're probably sick of hearing it by now, but I can't thank this current EC enough. They have made it such a joy to be a part of Surfrider. Thank you Bri, Chelsea, Colleen, Drew, James, Julia, and Sydney.
I am particularly in awe of how the chapter has responded to the global pandemic, which has rocked so many of our lives. Without missing a beat we rallied, took stock of what we had, and got to work bringing people together for the good of the community and the environment. This is credit to the passion, energy, and creativity of our EC, but most importantly to chapter and community members at large who showed up, attending screenings and meetings, and participating in cleanups. Thank you all.
Finally, a heartfelt thank you to our own Colleen Cushnie. As the sole EC member who's served on both ends of my term as Chair she has brought much-needed continuity, stability, and experience to the Seattle EC. This chapter would not be where it is today without her. Colleen, thank you so much for sticking with us. We are so lucky to have you as a friend and chapter leader.
I'd remiss in not also acknowledging Gus and Liz, whose commitment to the cause and unwavering support of our chapter has been both heartening and vital. Thank you both.
Though life has me on the road these days I look forward to remaining involved with the Seattle EC as long as you'll keep me around. It is a unique and important chapter with real potential to affect change and make the world a better place. I look forward to supporting however I can and encourage other chapter members to take the chance to work with some exceptional people on the chapter EC.
Onward,
Call Nichols
The Next Four Years
Surfrider's Plan to Protect our Coasts under a Biden Presidency
Summary by Madison Pickett
With the Biden administration on the horizon, Surfrider looks to a more hopeful future consisting of new laws, policies, and bold actions to protect our coasts and ocean. Surfrider urgently calls upon the Biden administration and Congress for strong federal leadership to address critical issues impacting our coastal environment. Surfrider's plan focuses on three issues: climate change, plastic pollution, and clean water.

In order for the United States to achieve the goal of a clean energy economy by 2050, Surfrider will urge the Biden administration to rejoin the Paris Climate Agreement immediately. In addition, Surfrider will work towards implementing the Biden administration's climate plan and enacting strong legislation to reduce greenhouse gas emissions. Surfrider will also fight for the Ocean Climate Solutions Act that will ban new offshore oil drilling and protect 30% of our ocean by 2030.

Surfrider will push for the Break Free From Plastic Pollution Act which is the first federal proposal to address plastic pollution. Surfrider will also urge the Biden administration to stop buying and using single-use plastics, require the plastic industry to pay for its waste, and establish the US as a global leader in the fight against plastic pollution. Additionally, Surfrider's network will continue to support Ocean Friendly Restaurants and involve volunteers across the country in cleanup events to remove plastic from our beaches.

In order to protect clean water for all people, Surfrider will urge the Biden administration and Congress to support and enforce the Clean Water Act. The Blue Water Task Force, Surfrider's community science testing program, will continue to monitor water quality tests, and the Surfrider network will fight to reinstate clean water protections that the Trump administration rolled back.

The next four years are crucial for protecting our beloved ocean and beaches. Please join our efforts, communicate with your elected officials, and get involved with Surfrider's network to fight for bold action from federal leadership to protect our coasts and ocean.
The original article and more information can be found on the Surfrider Blog.
Upcoming Events
November Chapter Meeting | Tuesday Nov. 17 | 6:30-7:30PM | RSVP
Chasing Coral - Cascadia Film Screenings | Thursday Nov. 19 | 6-8PM | RSVP Here
Second Cascadia Film Screening | January 21